Tune Tuesday is hosted at
Camisado Mind.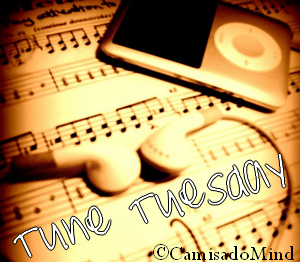 The rules for this week: "
Go through your iTunes or whatever music library you have and find songs that seem like the writers got inside your head and wrote down exactly what you were going through or thinking.
Find songs that completely or at least mostly pertain to your life somehow. So songs about being "famous" or having "haters"...just
not
going to cut it! Sorry! They can be from any artist, band or genre.
If you'd like, put a small reason

why
the song means something to you. If it's too personal...you don't have to."
I know this is a blog dedicated to books, but I also love music. Not to mention, when I'm reading your blogs, I'm always wondering who you are. Maybe I'm nosey. But I think this is a small way for you to know me.
1. Angel's Son, by Sevendust. (link) This song represents everyone I've ever lost. "Son" or "Daughter". Which is a lot of people. I'm only 21 and I've buried more than most people do by 50. It's quite ridiculous. And unfortunately, this doesn't seem to be slowing down. I know, the cycle of life and all that, but I'm sick of watching people die. All these people have left so much behind--we're all here to pick up the pieces. We move on, but we never get over it.
2. Seize the Day, by Avenged Sevenfold. (link) "Seize the day, or die regretting the time you lost. It's empty and cold without you here, too many people to ache over." Given my prior song pick, I doubt I really need to explain this one.
3. One Good Time, by Tech N9ne. (link) This is the last one in regards to the people I've lost. But it relates to that as well. My great grandma, step-grandma, and three Uncles died. And then my grandma died. I was closer to her than anyone, and it hit me really, really hard. After she died, and I spent months crying over it, I haven't been able to cry. Sure, put in a sappy movie, give me a sad book, and I'll cry my eyes out. Let something serious happen in life, I rarely shed a tear. No matter how I feel on the inside, I don't cry. It makes me feel cold.
4. Home, by Sevendust. (link) Growing up, I always felt I was being pulled in a hundred directions, never really know what home was. This song reminds me of that time in my life, though now things are much much different.
5. Feeling Sorry, by Paramore. (link) I feel like this song could be dedicated to a hundred people in my life, but I'm not mentioning any names. It doesn't apply to a significant other, however.
6. Close Yet Far, by CKY. (link) I've worked hard for what I have, but there are people who'd like to ridicule me for the way I am. In my mind, I'm trying to preserve what I've created, but in the minds of others, I'm a stuck up b*tch.
7. Show Me a God, by Tech N9ne. (link) Religion & faith was something I struggled with understanding, for years. I always thought...sickness, death, war...it's surrounding us every second of everyday, and people cling to their faith, and I wonder how. I need to see him, or some evidence of his existence before I can believe it. The difference between Tech & I? I'm nowhere near 99% sure.
8. Hope for a Higher Power, by Tech N9ne (link) Despite my disbelief in any god, I still would like to have hope that there was something after this. Some other than the final end. I can't bring myself to believe it, but when I look around me, I find myself hoping for something more.
9. Twisted, by Carrie Underwood. (link) When the BF and I were younger, this song definitely applied. More below.
10. Love the Way You Lie, by Eminem (link)(awesome cover) I am NOT an Eminem fan. I despise his whiny voice, but this is a song that I absolutely love the lyrics of. When my boyfriend and I were younger, we didn't have a healthy relationship. There wasn't physical abuse, but there was a lot of arguing, controlling, etc. A lot of broken promises. We loved each other, hated each other, were addicted to each other. We grew out of it, somehow, but how the hell we survived long enough to grow out of, it is beyond me. We're happy now, but back then, even I realize we shouldn't have been together.
11. If I Ever Go, by Krizz Kaliko (link) When my end is here, I want people to know how I felt about them. Obviously his specific verses don't apply to myself, but the overall message of the song, does. I shouldn't dwell on such things the way I do, but I've seen so much death, it's hard not to imagine what would happen if it were ME dying. I just hope everyone close to me realizes I love them.