Meet me on Monday is hosted over at
Never Growing Old
, and is a fantabulous way to get to know your fellow bloggers! Head on over there to participate.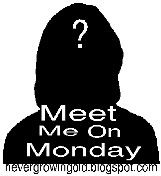 1. What one food could you eat every single day?
Jalapeno bean and cheese burritos. LOVE them. They taste good, they're quick, and they're cheap.
2. Do you wear glasses or contacts?
No.
3. What kind of cell phone do you have?
Blackberry Curve 8530. Love this little thing!
4. What did you have for dinner last night?
5. What is your favorite candy?
Sadly, there aren't many places around here to find these anymore. :/