Meet me on Monday is hosted over at
Never Growing Old
, and is a fantabulous way to get to know your fellow bloggers! Head on over there to participate.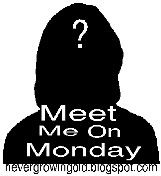 1. What do your normally eat for breakfast?
I very rarely eat breakfast. I know how everyone says that it's most important meal of the day, and it provides your body the fuel needed to get through the day. It seems to have the opposite effect on me, however. I feel disgusting all day, not to mention ridiculously exhausted. I'm much better off giving it a few hours, and waiting for lunch.
2. What kind of car do you drive?


I drive a Dodge Caravan, and the boyfriend drives a Lincoln Navigator. When I first went car shopping, a van seemed ideal. I mean, I have two kids, and it was nice having all the extra seating aside from their car seats. However, as time went on, I realized I don't want to drive a
van
. So I'm trying to get the boyfriend to get him a new car, and let me take over his Navigator. It drives like a dream....my van, does not.
3. Have you ever met a famous person(s)?



Yes. I've met Tech N9ne on numerous occasions. (A few of which were before he was really famous. Obviously he had a bit of fame, or I wouldn't have met him at all, but not like now.) I've also met Krizz Kaliko, and Kutt Calhoun, both from Strange Music (Tech's label). Most of you are probably thinking, "Who the hell is Tech N9ne?", but I assure you, he is famous. A lot more famous than people realize. But anyways, he's an underground rapper (though "underground" is used loosely), and I absolutely love him. Have for nearly ten years now, so I don't that changing! He's the only rap I can tolerate, which is ironic seeing as how he's my absolute favorite musician.
4. What is your favorite ice cream flavor?
Ben & Jerry's Strawberry Cheesecake. I'm not much of an ice cream person but I could eat that stuff every day!
5. Which TV Channel do you watch the most?